Industrial Ventilation
Our good friends at Hallam Performance needed our input to exhaust fumes from their chassis dyno section in their workshop. It's quite obvious what happens when there is no exhaust fan in this type of environment. When running a high-performance vehicle at maximum RPM in top gear to take a HP reading it gets quite 'fumy', so we needed to come up with a solution.
The answer was straight forward. Design a fan extraction system that sits at the source with enough power to capture the heavy fume and exhaust it through the system at a very fast rate. There's never a dull moment here. One day we make them a driveshaft for their drag car that can handle 2000HP and the next we're designing and manufacturing a fume exhaust system…Love it!!!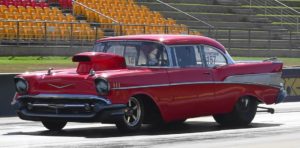 The pick-up hood is designed to sit behind the vehicle at exhaust pipe level. The opening of the hood is on an angle to capture the fume from the pipes and not allow the fume to escape. More importantly, the high capture velocity at the opening generated by the fan ensures the fume is effectively sucked through the system.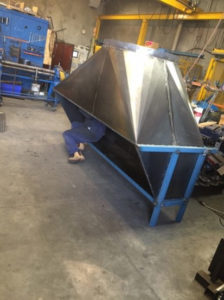 Exhaust fumes extraction
The air from that point accelerates through the square to round transition, up the duct and through the fan. Now the fan is the key to whether the system will work or not. The fan we designed sucks around 25000 cubic feet of air per minute. That's a lot of air and hence a big fan, but that's what the system needs to effectively remove those harmful fumes.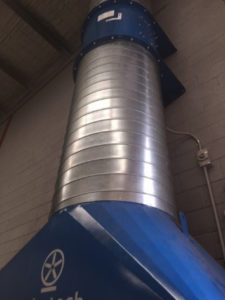 Yes, there is a bit of air noise at the entry point. As a system, it performs to what I calculated from the hood entry, through the duct and out the fan discharge. Thus a consistent air acceleration through the entire system and no fumes in the workshop.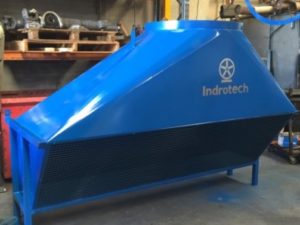 The result is a 36" diameter axial wall mounted fan with a perfectly designed and manufactured pick up hood. Also if I may, a good looking addition to Hallam Performance's impressive workshop. Mission accomplished and a job well done all round.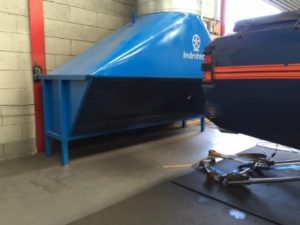 Take a look at this video and you can see what we mean. Be careful it gets loud!!!
Quality guaranteed, Certificate of Fans upon request.
Dynamic Fans of high speed rotating components increases bearing life, achieves smoother running conditions, increases service life and enhances the quality of the finished product.
To ensure quality workmanship, Indrotech periodically service and calibrate all Fans machines to continue to provide optimal productivity, accuracy and reliability.