FANS - BALANCING - DRIVESHAFTS
FANS - BALANCING - DRIVESHAFTS
A History of Innovation & Expert Advice
We are leaders in Industrial balancing, driveshafts and fan technology.
Indrotech offer an extensive range of rotational products & services including:
Design, manufacture and repair commercial, tailshafts / driveshafts and automotive tailshaft assemblies

 

Design, manufacture and repair the complete range of industrial fans
Perform industrial dynamic balancing processes for all high speed rotating components
Customisation, fabrication and repair;
On-site consulting on all rotation technologies
Company Director, Dennis Eliopoulos together with his team of highly experienced engineers and trades-people have all significantly contributed to the development of Indrotech as the leader in industrial rotational technologies in Australia
In fact, Indrotech have earned a reputation for innovative solutions regardless of the scale of the project. Expertise and specialist training enables the team at Indrotech to address the unique challenges each project presents and provide simple and effective results, with high-quality workmanship and exceptional service every time.
With particular expertise in the areas of industrial driveshafts, industrial fans and industrial balancing, Indrotech are well recognized for their service, products and innovation and have firmly established themselves as "The Industrial Rotational Technology Specialists"
Why – We do what we do
We want to "keep industry going". When the industry stops because of a failure we will find the best solution to get it back on its feet again. Our reputation as professionals means that clients/customers can depend on Indrotech to come up with a solution; big or small.
How – We do what we do
We effectively communicate the full picture of what is going on so the customer understands what is needed to fix the problem. We then educate our customers on the best option to achieve the best result. Once the customer understands what the underlying issues are it helps them to reduce their downtime. And thus keep industry moving.
What – We do
We implement systems and solutions by providing a quality product in good time. Part of building your reputation is offering a quality product backed with certification as a guarantee that the job (big or small) has been completed successfully.
Indrotech have well established systems, policies and procedures in place to ensure all work follows set company guidelines for optimum results. From administration to workshop staff, Indrotech employs the most qualified people. More importantly, staff must also fit the Indrotech philosophy – a passion and commitment to high standards. All fabricators, machinists and fitters have been specifically trained. They perform their duties to procedure and ensure that each project is handled to its high quality standard.
With a solid mechanical engineering background, company director, Dennis Eliopoulos is not only technically driven but places great emphasis on quality service and customer satisfaction. In fact, the team at Indrotech aims to not simply satisfy customer expectations but to exceed it.
The workshop is equipped with specially manufactured tools to suit a wide range of production capabilities and applications.
The workshop consists of:
♦  2 – off 40" Diameter heavy construction impeller table – this heavy top plate allows sufficient welding to the impeller where the table absorbs the excess heat and reduces the chance of back plate buckling.
♦  6 Foot rollers for forming cones, shrouds, barrels, special blades, scrolls etc.
♦  3 Sizes of blade presses that cover a wide range of impeller blade profiles.
♦  Transition press for up to 3mm wall thickness.
♦  6m long horizontal 20T press.
♦  6m long horizontal automated tube welder.
♦  6m long Schenck H4 Hard Bearing 4-Plane driveshaft balancing machine with CAB920 measuring unit.
♦  3m long Schenck H40 Hard Bearing Industrial Balancing machine with CAB690 measuring unit.
♦  6m long Schenck H4 Hard Bearing 3 PLANE driveshaft balancing machine with CAB700 measuring unit.
♦  6 MIG welders Spray booth; Associated tooling and fixtures.
♦  2 Metal turning lathes, 1 x 6M and 1 3M
♦  Bridgeport Vertical Mill
And lots more to complement the workshop…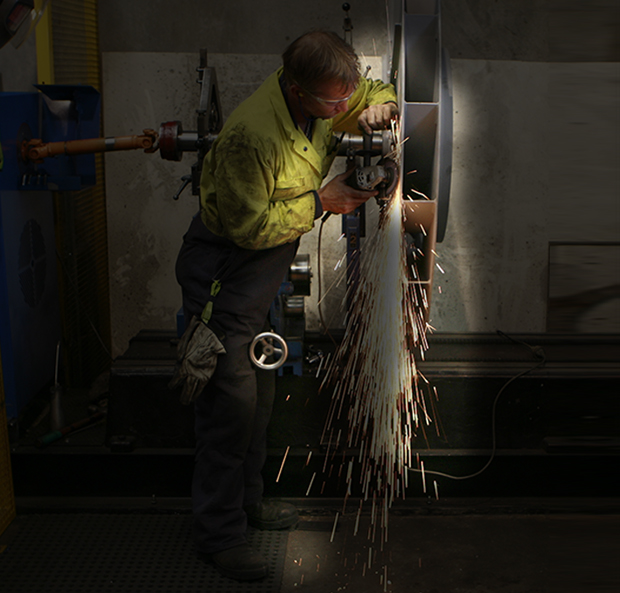 Focus On Safety
Indrotech is a quality conscious company with a well developed Quality Management System. Company policies, procedures and processes provide the framework to maintain consistent, quality output in a safe working environment. Indrotech promotes a safe and healthy working environment and all staff are required to follow company policies and procedures to maintain a safe work environment.
Installation, Maintenance & Project Management
Indrotech provide Installation, Maintenance and Project Management services that includes expert technicians on hand to install components for smooth and trouble free operation; repairs on mechanical breakdowns as well as regular maintenance checks to prevent potential mechanical failure; and end to end project management solutions from concept stage to fully operational.