Schenck H20 hard bearing balancing
Indrotech Pty Ltd is proud to announce their new addition to their Industrial Balancing facility; a Schenck H20 hard bearing balancing machine backed up with a CAB 590 measuring unit.
Indrotech, Australia's leader in Industrial Rotational Technologies, Industrial Fans, Industrial Balancing and Driveshafts, have today confirmed this new addition has now been commissioned. The H20 was introduced to the workshop to handle the smaller rotating components that require balancing such as drive pulleys, electric motor rotors, small pump impellers and small turbine wheels of maximum weight up to 50kgs. Having the sensitivity of its 'big brother' in the workshop, the H4, it can comfortably achieve grades of balance as low as G0.4 to the ISO Standard.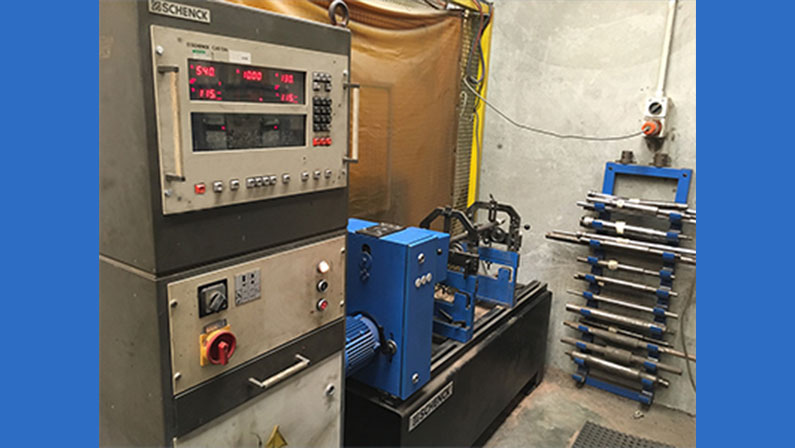 The key features of this machine are:
Selection of 4 speeds;
1500mm long bed;
800 maximum diameter
Digital readout;
3" diameter high speed crowned rollers.
"At the moment, it's a dedicated direct drive machine. The next step from here is to incorporate a belt drive system. This will allow the work piece to "float" on the rollers eliminating any external drive influences that may compromise accuracy", said Dennis Eliopoulos Managing Director, Indrotech. "Not that the direct drive system is inaccurate but when we're balancing light weight, small diameter components, it's better to belt drive them at very high speed. The bigger diameter components have no issue with direct drive".
Dennis added that, "the introduction of the H20 now allows us to free up the H4 from the geometrically smaller jobs. This way we can balance more rotors in the equal amount of time. I like this because that's what my customers want; fast turnaround.
We were fortunate enough to pick up this machine from an ex fan manufacturing company, Flakt Woods who I considered as "the Rolls Royce" of the fan industry…"
Quality guaranteed, Certificate of Balance upon request.
Dynamic Balancing of high speed rotating components increases bearing life, achieves smoother running conditions, increases service life and enhances the quality of the finished product.
To ensure quality workmanship, Indrotech periodically service and calibrate all balancing machines to continue to provide optimal productivity, accuracy and reliability.